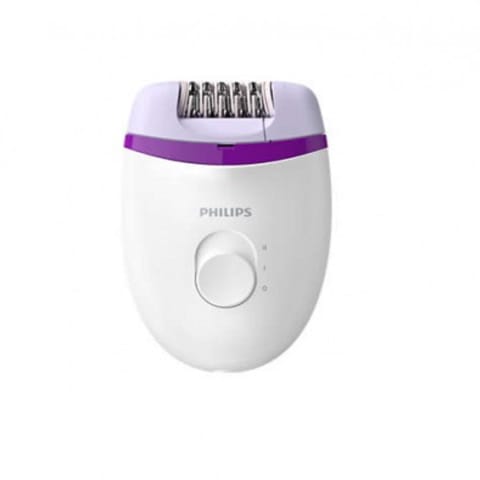 Epilaator Philips Satinelle Essential BRE 225/00
Maximum amount is reached
Country of origin

China

Brand

Philips

Amount

1 pcs.
Product description
• Kaks kiiruseseadet
• Sääretele, kuivkasutus, õrnad epileerimiskettad
• Pestav epileerimispea
• Juhtmega kasutus
Instructions
Näpunäiteid epileerimiseks - Liigutage seadet karvakasvule vastassuunas, nii et sisse-välja liuglüliti osutaks suunas, kuhu soovite seadet liigutada. - Asetage seade nahale 90° nurga all. Nahk peab olema puhas, täiesti kuiv ning nahalt peab olema eemaldatud rasu. Enne epileerimist ärge kasutage deodoranti, meiki ega kreemi. - Optimaalne karvade pikkus mugavaks epileerimiseks on 3–4 mm. Kui karvad on pikemad, kärpige need enne epileerimist lühemaks.
Warning!
Tähtis ohutusteave: Kasutage toodet ainult ettenähtud otstarbel. Enne toote ja selle tarvikute kasutamist lugege see teave hoolikalt läbi ja hoidke edaspidiseks alles. Vale kasutamine võib tekitada ohtlikke olukordi ja tõsiseid kehavihastusi. Kaasasolevad tarvikud võivad erinevatel toodetel olla erinevad. Hoiatus - Hoidke USB-kaabel ja toiteplokk kuivana (joon. 1). - Seda seadet võivad kasutada lapsed alates 8. eluaastast ning füüsiliste puuete ja vaimuhäiretega isikud või isikud, kellel puuduvad kogemused ja teadmised, kui neid valvatakse või neile on antud juhendid seadme ohutu kasutamise kohta ja nad mõistavad sellega seotud ohte. Lapsed ei tohi seadmega mängida. Ärge laske lastel seadet järelevalveta puhastada ja hooldada. - Kasutage seadet karvade eemaldamiseks või piiramiseks ainult piirkondadel, mis asuvad kaelast allpool (v.a väikestel häbememokkadel). - Kasutage ainult Philipsi originaaltarvikuid või kulutarvikuid. Kasutage ainult eemaldatavat toiteploki HQ8505. - Ärge kasutage kahjustunud seadet. Asendage kahjustunud osad uute Philipsi osadega. - Ärge toiteplokki muutke. - Toiteploki pöördumatu kahjustamise vältimiseks ärge kasutage seda sellises pistikupesas või sellise pistikupesa lähedal, mis sisaldab elektrilist õhuvärskendit. - Kasutage ja hoiustage toodet temperatuuril 5 –35 °C. - Hügieenilistel kaalutlustel peaks seadet kasutama ainult üks isik. - Ärge kasutage seadet ärritunud või kahjustatud nahal, veenilaienditel, pigmendilaikudel ega sünnimärkidel (millel on karvad). Kui teil on suhkurtõbi, hemofiilia, vähenenud immuunvastus või immuunpuudulikkus, pidage enne seadme kasutamist nõu arstiga. - Seadme esimestel kasutuskordadel on nahaärritus või punetus normaalne. Nahaärritus väheneb, kui nahk on seadmega harjunud. - Kahjustuste või vigastuste vältimiseks hoidke töötavaid seadmeid eemal juustest, kulmudest, ripsmetest, riietest jne. - Ärge kasutage koorimisharja kohe pärast epileerimist, kuna see võib suurendada epileerimisel tekkiva võimaliku nahaärrituse ohtu. - Epileerimisel ei tohi kasutada vanni- ega dušiõli, sest see võib põhjustada raske nahaärrituse. - Ärge kunagi kasutage seadme puhastamiseks suruõhku, küürimiskäsnu, abrasiivseid puhastusvahendeid ega sööbivaid vedelikke. - Veenduge, et surute väikese pistiku täielikult seadme pistikupessa. Kui olete selle täielikult sisse pannud, kuulete klõpsatust. - Maksimaalne müratase: Lc = 76 dB(A). Elektromagnetväljad (EMF) See Philips seade vastab kõikidele elektromagnetiliste väljadega kokkupuudet käsitlevatele kohaldatavatele standarditele ja õigusnormidele.
Product information and pictures have been prepared for information purposes only, and are designed to enhance your shopping experience on the RIMI website. The actual appearance of the product may differ slightly from the picture. Received goods may be in different packaging and look different or might be in different shape. While we have taken care in preparing this information and believe it is accurate, you should read the information on product packaging and label prior to use. You should note that products and their ingredients are subject to change. RIMI is unable to accept liability for any incorrect information presented on website.